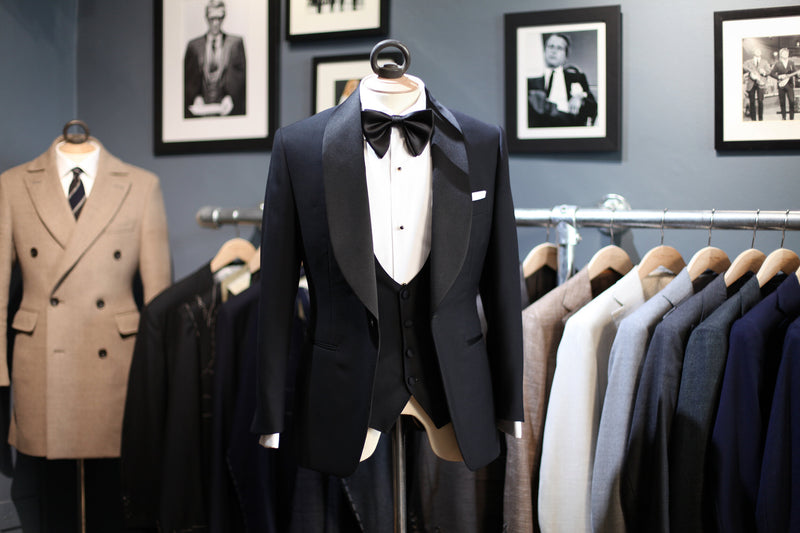 Party season is upon us, and that can only mean one thing: it's tuxedo time. Let's explore this luxurious, timeless piece.
How did the tuxedo originate?
In the 1860s, Savile Row tailor Henry Poole was commissioned by the then Prince of Wales (later King Edward VII) to make him a more relaxed, but still sharp and stylish, version of the tailcoat. The dinner jacket was born, and this first iteration was actually midnight blue silk, with matching trousers - we'll talk later about that midnight blue versus black debate. But how did the name 'tuxedo' come to be? Well, 'tuxedo' is an Americanism, and came about when the dinner jacket style was adopted by members of the Tuxedo Club in the 1880s, a high society private members club in New York, attended by affluent families and socialites. Certain members, inspired by Poole's creation, took the trend across the pond, where it was initially considered a rebellious alternative. By the twentieth century, however, the tuxedo had become a staple in every fashionable gentleman's wardrobe, and has been an integral part of bespoke tailoring ever since.
What are the options when having a tuxedo tailored for you?
Midnight / Dark Navy Mohair - Peak Lapel
You're going to a party, and the dress code is black tie. Sure, the rules are pretty strict, but there are subtle ways to inject your personality into a tux, and to put your own mark on it. The first question that comes to mind is: black or midnight blue? These are the two most obvious choices and our most preferred when it comes to colour. Black, on the one hand, is timeless - this beauty will never go out of style. However, midnight blue actually appears blacker than black when under artificial light - so, perfect for the red carpet, if that's where you happen to find yourself! It's also just that little bit different, while remaining classic. Navy blue is another option, and a more stand- out one, perhaps for a one-off occasion. A white tux is another alternative, if you want to be noticed in the crowd and be a little more trademark Bond, but ideally choose black trousers. As for the fabric itself, we can look at using mohair, wool barathea, silk, and not to forget luxurious velvet - cigar not obligatory. The devil's in the detail, and here's where your suit gets even more personal; silk, satin, velvet or grosgrain lapels and trouser tape? Peak or shawl lapel? Peak is the most formal, as you would see on tailcoats and morning coats, whilst shawl is that gloriously round-edged lapel that you only really ever see on a tux. Of course, you may also want to go double breasted, as seen in recent years on the red carpet.
Black Mohair - Shawl Lapel
How is a tuxedo best worn?
Aside from the pièce de résistance jacket, what else constitutes the tuxedo look? Well-fitting trousers, of course, matching the jacket's fabric and detail, with a tape along the leg to match the lapels, and held up traditionally by braces. A dress shirt - think pleats, Marcella bib, or plain front, and buttons, studs and cufflinks - and then of course a bow tie, which you should tie by hand (we're available for tutorials as needed!). Shoes are key: a black patent lace-up Oxford is classic, or a velvet slipper. A waistcoat might also be added to complete the look.
So as the evenings draw in and the nights get longer, and the invites start arriving through the letterbox, give us a call and let's talk tux.