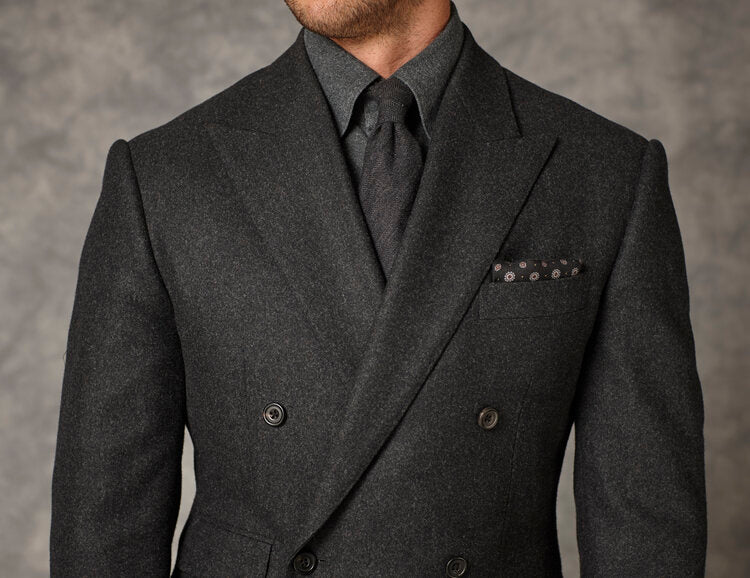 If you don't have a flannel suit in your life, now is the time.  Flannel is to winter what linen is to summer; as a fabric it brings a versatile, smart-casual approach to suiting that we just can't stop banging on about. Just why do we love it so much? Let's discuss. 
IT LOOKS GREAT: Flannel is defined by its milling process, whereby the cloth is beaten and the fibres broken to raise the nap, producing that lovely raised fuzzy finish. We love making flannel suits as much as we love wearing them. Durable, yet super refined; sophisticated and classic, yet with a texture that distinguishes it from your regular business suit. Whatever flannel you go for, it has a true depth of colour and mixture of mottled tones that really bring it to life.  What's more, flannel is very forgiving and drapes particularly well. Convinced yet? 
IT GOES WITH EVERYTHING: Flannel is easier to break up than your classic suit; it is the king of mix and match. One day you're in a grey flannel blazer with navy trousers or jeans; the next, a navy blazer with chinos of any colour you like. Try with Oxford shirts, flannel ties, cashmere jumpers, flannel shirts, a vast selection of shoes... the list goes on. Flannel is fun to play around with, and it's really easy to do. Flannel is a truly versatile staple, and the more you have in your wardrobe, the more you can play. 
If that's not enough to convince you, we don't know what is. Pop into our atelier to check out our selection of fabrics, and see out the rest of winter in bespoke flannel.