Q&A WITH THE FOUNDERS OF JACK DAVISON BESPOKE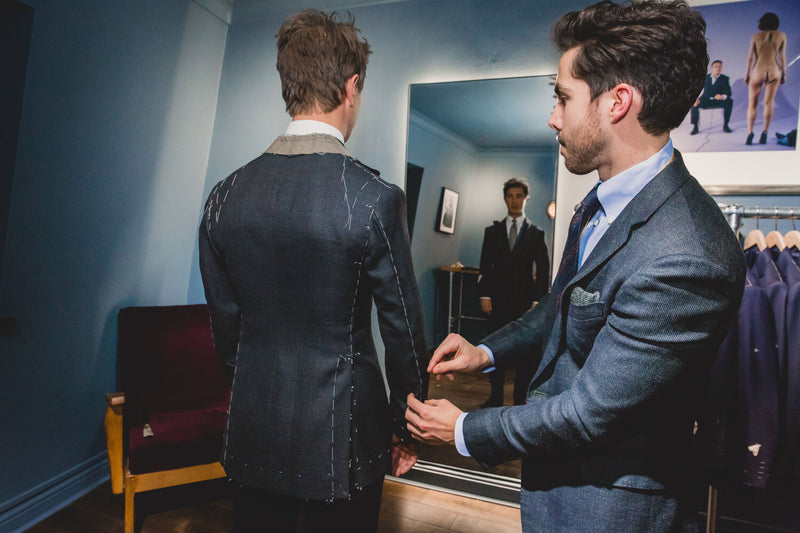 Meet Jack Stammers and Will Davison, bespoke tailors and founders of luxury men's atelier Jack Davison Bespoke.
Why did you enter the world of bespoke tailoring?
Will: I've always had a love of menswear, but when I first started going out and buying suits, many years ago, I found the experience - the cut, the fit, the fabrics - just really uninspiring. Bespoke tailoring is a cut above and I wanted to be involved in that process.
Jack: I've just always had an interest in it. I built up my skills, and ended up working at Thom Sweeney in Mayfair, which was a brilliant experience - and then Will came along a couple of years later!
So is that how you two met?
W: Yes, we worked there for about five years together.
J: He grew on me.
W: Jack took me under his wing, showed me the ropes!
Why did you decide to start Jack Davison Bespoke?
J: Well, we knew we got on, but mostly we had the same ideas about what we wanted out of a business. In 2017, we decided to take the plunge and start our own bespoke and made-to-measure tailoring company.
W: We wanted to create a fresh, accessible tailoring experience. We've often found the traditional Savile Row experience to be a bit old-school, perhaps even intimidating at times. We thought there was room for something new. We have well over a decade of shared experience under our belt, so we know what we are doing, but we are young, with new ideas. We are free to do things how we and our clients want. We like to think that is what makes us different, and what makes the experience really enjoyable.
J: Not only that, but we wanted to move away from Mayfair into the City – it seemed like an obvious choice. We felt like the City, an area full of style-conscious professionals, was missing a little bit of that Mayfair flair. So here we are, just a 30 second walk from St Paul's Cathedral.
What else is different about Jack Davison?
J: We offer modern styling combined with traditional methods and highly skilled, refined techniques. So we can offer the same quality of suit, without that stiff-upper-lip approach. We like to push the boundaries of traditional tailoring, and help clients to work out what is best for them. We really enjoy what we do and love getting to know our clients. We personally see the whole process through from beginning to end. The best part of the job is seeing a happy client walking out the door, looking sharp in a suit we have made especially for them.
Why go bespoke?
W: You get to choose your fabrics, styling details, and it is cut for you and only you. You can't beat the fit.
J: You'll never look as good in a suit off the rack as you will in a bespoke suit. And it's completely unique.
Can a suit transform body shape?
W: A well-cut suit will flatter and complement the body shape. A slimmer leg will make the legs appear longer; a suppressed waist will make the client look slimmer; a stripe is said to elongate the body. Any suit that is too tight or cut badly will have a negative effect – that would never happen here!
J: Obviously we are not surgeons so there is a limit to our wizardry! But we will do our upmost to create the best possible fitting suit for our clients, whatever their body shape.
Do most of your clients have a firm idea of what they're looking for, or do you guide them?
W: It's a mixture. Some are happy to leave it totally in our hands, especially those who have already had a few suits made by us. Other clients have a general idea of what they want and then it is a matter of understanding their needs to narrow the search down. We offer our advice and knowledge and discuss for as long as the client wants, so that they walk away happy.
Who comes to you for suits?
J: Many different people for all sorts of occasions. We help with weddings and events, of course, but we also see financiers, creatives, models… Anyone who wants a great-fitting suit of the highest quality, which is entirely unique to them and which they can wear with total confidence. Repeat custom is massive too, which is great, as it shows our clients are enjoying their suits. We get to understand our customers better over time, to understand how they like to wear their suits, and how we could make them look even better.
W: And by having repeat custom, it means a client's pattern and suit can evolve as time goes on. A client's needs and tastes might change, or we might be able to show them that, for example, a slimmer leg is more flattering for them, and so their leg pattern might get slimmer from suit to suit. Going bespoke means you have this option – to amend your suit and fit over time, to keep you looking great. You don't have to try millions of suits on in the shops: we'll make the perfect suit for you, and we can continue doing so over the years.
J: Exactly. And of course, repeat customers are happy customers who recommend us to their friends and colleagues, which means we're picking up a lot of new business as well. It's very exciting.
Any outlandish bespoke requests?
W: We had a client who wanted a diamond-encrusted dinner suit for Cannes Film Festival. That was pretty out there!