LOOK OF THE MONTH: OCTOBER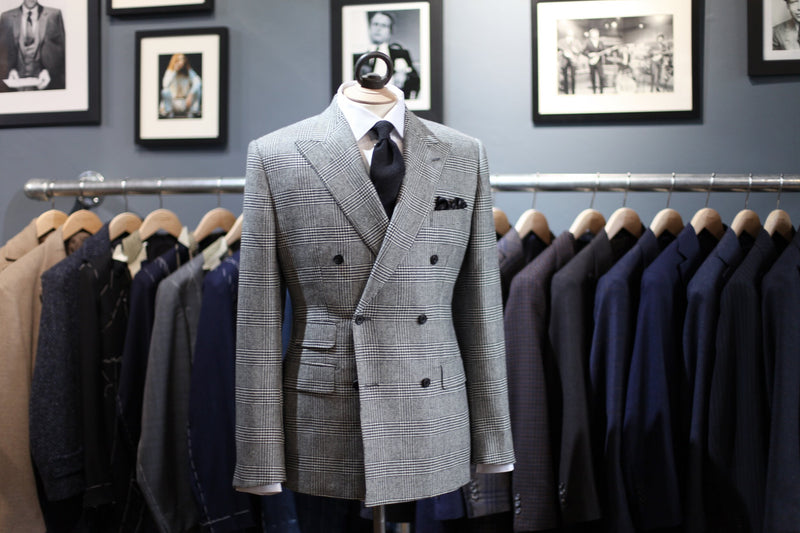 Double Breasted Check Flannel Plaid Blazer
In this series, we will showcase a particular piece that we have created over the past month that we really want to share with you. As well as describing the piece, we'll provide tips on how it might best be worn and accessorised.
We created this double breasted check flannel plaid blazer, and we couldn't love it more. It is the epitome of a party suit – made for good times and to turn heads.
Fabric:
11oz lamb's wool and angora blend from Harrisons mill in the UK.
Detail:
Double breasted, as per the client's preference, and cut close for a snap in the waste. With a check pattern like this, a well-fitted waist is important for accentuating the blazer and the wearer's shape, more so than with a plain fabric jacket. Two rear vents sit nicely over the back and bottom. The lapel is ten centimetres wide, our house width for double breasted jackets. We added two straight pockets with flaps, one ticket pocket and a welted breast pocket. Inside, the jacket is lined with black bemberg, and has two breast pockets, one pen pocket and another ticket pocket. All in all, we think it's a real beauty!
When to wear:
Flannel is a warm fabric. This jacket would be best suited to winter, but could be worn in the UK during the months of October to April.
How to wear:
We would recommend wearing the blazer with a crisp white cotton Oxford shirt with a classic collar, a charcoal herringbone tie made of pure cashmere, along with a charcoal cashmere pocket square, all of which we can supply to complete your look. On the bottom half, a charcoal flannel trouser with a five centimetre turn up would complement the look, but still leave the jacket to do the talking. If you want to dress the look down, swap the shirt for a grey or black cashmere roll neck.  As for shoes, we'd go for a simple unlined black suede loafer.
As featured in GQ magazine's online article 'GQ Shops: This Autumn's fashion essentials'