THE JACK DAVISON BESPOKE EXPERIENCE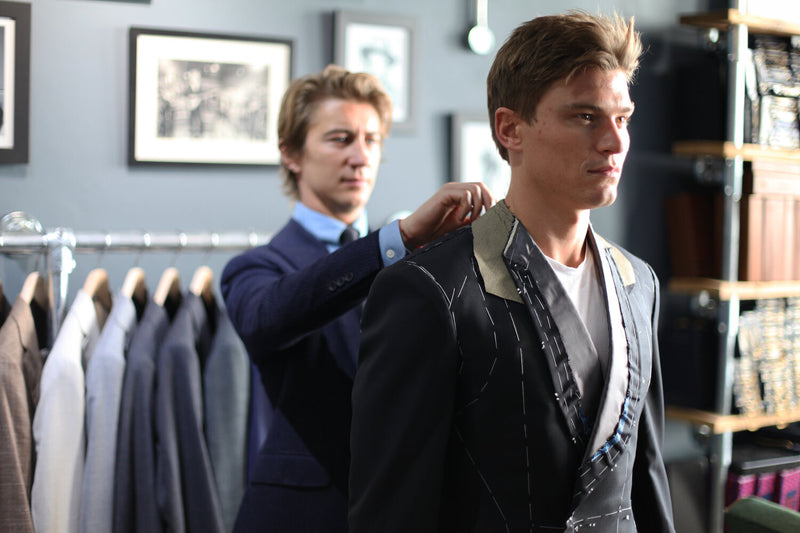 We are Jack and Will, founders of Jack Davison Bespoke. Today, we're working on plans for our latest bespoke commission; a tux for the London Fashion Awards, here in our atelier-come-showroom on Ludgate Hill, a stone's throw from St Paul's Cathedral. It is, we like to think, a welcoming, laid-back space, where you can browse examples of our work, as well as our collection of remarkable fabrics from the world's finest cloth mills. This is our home and has been since 2017 when we decided to leave Savile Row behind and head for the buzz of the City. With well over a decade of experience between us, we wanted to create something a little bit different. We employ highly skilled techniques refined on Savile Row and in Italy over hundreds of years, yet we have the freedom and knowledge to help clients to push the boundaries on cuts, finishes and combinations. We are proud of what Jack Davison Bespoke has become.
We are not just about the suit, but about the whole experience. We will guide you through the whole process, from consultation, to the moment you see your unique piece for the first time, ready to take (or indeed, wear!) home. Whether it's a suit for the Cannes Film Festival, or for everyday office attire, for each client, we make it our priority to build a relationship of trust and create a straightforward, relaxed and enjoyable experience, and one which we hope you will want to repeat time and time again.
The process begins with a consultation to discover exactly what it is that you want. We'll talk fabric; think wool, silk, linen, flannel and cashmere. We can discuss colour, texture, weave and pattern options. We'll think about details and embellishments, such as buttons, pleats, vents, turn-ups and lapels. The options are almost endless. We'll discuss what will work for particular occasions, for the varying seasons and for different body shapes, and how you might eventually wear and accessorise your bespoke piece. We are here to listen and discuss, to share our knowledge and to understand what it is that you need and want from the suit that we will create for you. Don't worry if you're new to the process, or not really sure what it is that you want - we're committed to helping you narrow down the search, so that we can craft the perfect cut for you.

From consultation, we move to the process of fitting. Whether bespoke or made-to-measure, the processes of which slightly differ, we take an in-depth set of measurements, looking carefully at the configuration of your body. You'll try on sample jackets and we'll see how you feel, always listening and discussing as we go. For a bespoke suit, a paper pattern will be hand-drafted and cut from scratch, before being transferred to fabric and sewn by hand, ready for further fittings and re-working, before eventually being completed, by hand, at our workshop. The bespoke process takes around ten to twelve weeks. Made-to-measure suits will originate from an existing house pattern which is then customised for you, applied to your chosen fabric, and sewn by machine; it is a slightly quicker process at five to seven weeks. Your pattern, be it bespoke or made-to- measure, is stored safely, ready for your next commission with us. Then comes the most exciting part: the reveal of the finished article. A suit made for you, and only you.
It's easy to arrange a visit. Just give us a call or book a consultation on our website or via our social media channels. Home and office visits are available on request; otherwise, come and ring the bell at 35-37 Ludgate Hill, and let's talk sartorial.