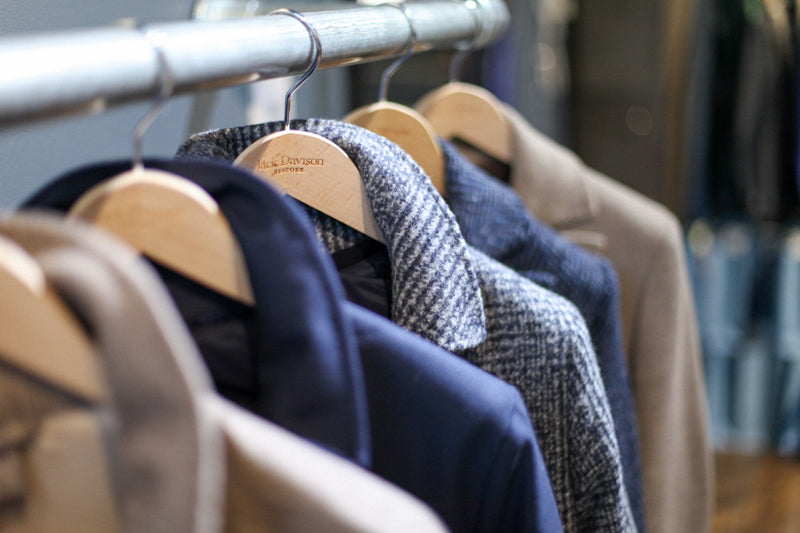 As its name would suggest, the car coat was originally intended as an overcoat to protect against the elements whilst driving, along with cap, gloves and goggles, back in the very early days of open-air automobiles. As the design of cars moved on, so did the car coat, such that today, it is less a purely utilitarian piece, and more a practical yet refined part of any well-dressed gentleman's wardrobe. 
We love the car coat so much here at Jack Davison that we decided to develop our very own house edition, as the perfect crossover between formal and informal; suitable in all weathers, every season and on any adventure. Here's how we like to do it. 
CUT: Any construction begins with its foundations. And it's the same for our garments; in developing our house car coat, we had to perfect the base. Our car coat is unstructured in every single way; without canvas, no fusing at the shoulder and no chest construction. The result is a relaxed fit, perfect for everyday wear.
FABRIC: Our car coat is completely customisable in any of our fabrics. Alongside options including comfortable wools and high-performance Loro Piana fabrics, you'll now be able to choose from our brand new water-repellent, wind-resistant and sweat-wicking fabrics from Olmetex, a renowned outerwear fabrics supplier. Each of these durable fabrics feature a special finishing technology to enhance their technical characteristics.
LINER: Our optional detachable liner will keep you warm even in the coldest months, with its breathable, water-resistant outer shell, made from fabric by Italian mill Olmetex, and insulated with 100% recycled 'down' by Italian insulation specialist Thermore. With all the characteristics of true down feathers, our sustainable down is made from recycled plastic bottles. The sleeves are padded with a lighter down, to allow for ease of movement. The liners are quilted in a spiral pattern, as a nod to the M65 Fishtail parkas of the 1960s, and are available in green, blue and black. 
DETAIL: Detail options include a hidden or visible button-up closure, a tab cuff and a regular collar, as well as the aforementioned optional detachable liner. 
Enquire about our car coat now - the perfect all-year-round companion.