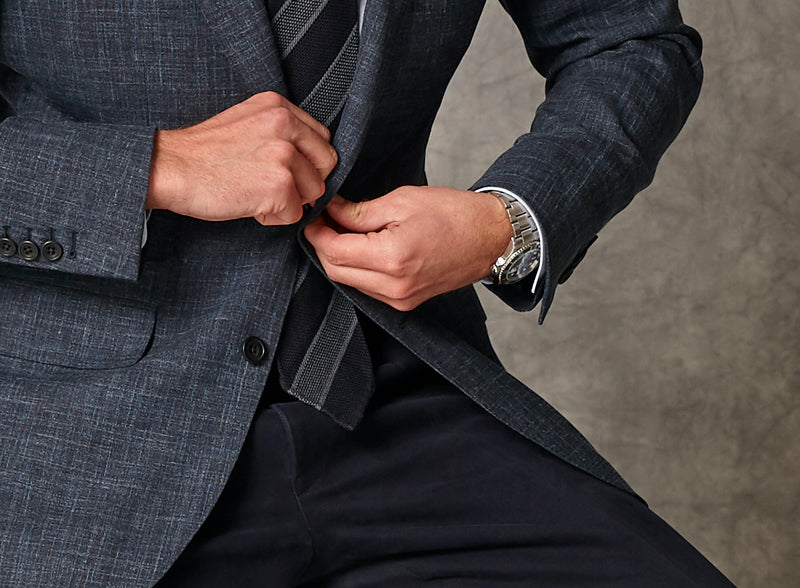 Steel Blue Wool Silk Linen Blazer, with Navy Brushed Cotton Trousers 
Taking all the best traits of wool, silk and linen, this jacket's blend is truly the answer to summer, and one of our favourites. Worn with cotton trousers, it's a look that will take you effortlessly through from summer in the bustling city to a wedding in the Mediterranean.   
Fabric: 
Jacket: 9oz wool/silk/linen blend from Loro Piana.
Trousers: 10oz cotton from Carnet.
Detail:
With the jacket's roped shoulders, notch lapels, two buttons, flap pockets and ticket pocket, we've taken a forward-thinking fabric and created a really classic looking piece. The navy cotton trousers speak for themselves and are an essential in any wardrobe.  
When to wear:
Just as much a summer work suit as a summer wedding piece, this jacket is lightweight, breathable and luxurious. Its blend of wool, silk and linen provides the appearance of pure linen without the creasing; worn with simple cotton trousers, the result is immaculate, smart, everyday summer attire. 
How to wear:
We love this particular combination of steel blue blazer worn with navy brushed cotton trousers, and we would happily add a waistcoat to make this a three-piece. The blend from Loro Piana comes in a variety of colours, so the looks achieved may vary; from off-white worn with a crisp white linen shirt in the Tuscan hills, to navy or rich chocolate worn with a classic business shirt to the office. The details added can be varied accordingly, too; make it double breasted, or soften the shoulder, for example. It's a highly versatile blend.