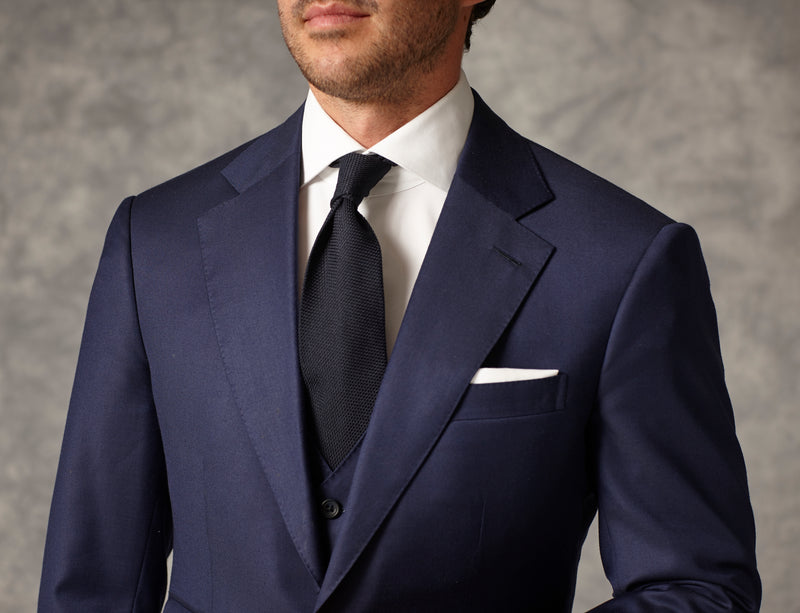 Shoulders lie at the heart of bespoke jacket construction: what are the shoulder styles on offer?
The choice of shoulder on your bespoke suit jacket is a crucial consideration and a defining characteristic of your final silhouette.  What affects shoulder shape in suit tailoring? It comes down to three factors: padding, roping and length. By changing one, or all, of these shoulder elements, one suit may appear entirely different to another.
So, bearing these factors in mind, what shoulder looks are possible? They are best divided by looking at English and Italian shoulder tailoring. 
ENGLISH STRUCTURED: This is a traditional structured shoulder, padded and roped, giving a square, formal appearance, most classically seen on business suits. A highly structured shoulder will enhance the build of its wearer. There are, of course, varieties within the English Structured style, and shoulder shape will vary from one English tailor to another, and depending on the preferences of the wearer. 
ITALIAN: An Italian shoulder is constructed with very minimal padding, or perhaps even no padding at all, and is designed to drape naturally over the shoulder, almost like a shirt, giving a relaxed yet elegant appearance. Again, Italian style will vary from tailor to tailor and suit to suit. There are other styles to mention, such as the Neapolitan, which involves a slight pleating of the sleeve cap fabric, a sign of great handiwork and craftsmanship.  Italian houses also have a penchant for a roped shoulder, which can be used alongside a natural shoulder to define the end of the shoulder line, giving breadth without excess structure.  
These are the extremes of shoulder styles to give a general sense of what's on offer, but of course there is variety to be found in-between, and you'll hear many shoulder names discussed in the bespoke world, from the Continental to the French; the Roman to the Milanese to the Pagoda. Ultimately, however, the decision comes down to the wearer's dimensions, preferences, and the occasion for which the suit it to be worn, which are all taken into consideration during consultation.
OUR HOUSE SHOULDER:  At Jack Davison, we offer a preferred house style shoulder, which is more natural when compared to the military square shoulder line of Savile Row. Even if we add rope, our house shoulder will give a softer look, erring towards the Italian, for a less structured, less boxy appearance, and a more effortlessly modern formal aesthetic.