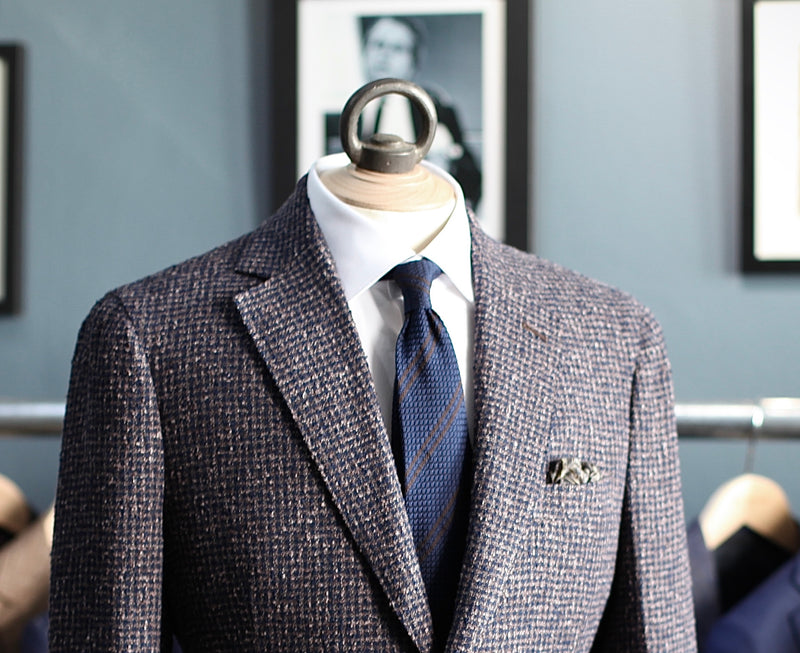 Textured Sports Jacket
This month's look is our very special textured sports jacket, cut from an unusual, almost houndstooth-patterned cloth from Ariston, in a mixture of navy and brown. We say 'almost', as the pattern has a much softer pattern than your average houndstooth, with a greater depth and blurred texture to it. It's a classic piece to be worn for many an occasion.
Fabric:
9oz wool from Ariston.
Detail:
We have made this blazer with minimal shoulder padding to deliver a soft shoulder to complement the wearer's natural shoulder line. With two buttons, a double vent and a defined waist. 
When to wear:
Whether worn at the weekend to smarten up a casual outfit, or to the office to create a more relaxed look, this piece proves itself to be highly versatile, one which can be worn comfortably all day long, and with a pattern that neatly disguises any creasing.
How to wear:
A number of options come to mind: with navy or dark brown flannel, hopsack or cotton trousers; with a flannel or a denim shirt; or with knitwear.
We should point out this fabric also comes in a Lovely green hue – ask us to see it next time you're in.