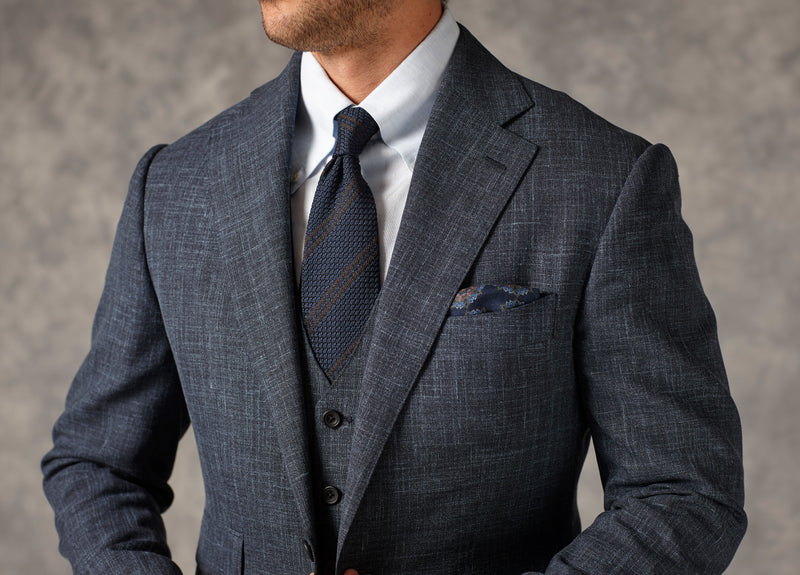 This week, we want to expand on the many virtues of one of our most favoured blends: wool, silk and linen. The Italian mills in particular weave this blend to perfection (Loro Piana produce our personal favourites), with its trademark texture full of flecks and depth, coming in an array of colours, from understated but sophisticated navies and browns, through to creams and summery pastels. So what does each element of the blend bring to the mix?
WOOL: is durable, easy to care for and has an elasticity to it that minimises creasing. It's also comfortable and breathable, with just as much capacity to cool its wearer as to provide warmth. All in all, a pretty strong contender to contribute to any blend.
SILK: is renowned for its luxurious lustre and softness, and drapes beautifully. Beyond its aesthetic properties, it is remarkably strong, cool and resistant to creasing. A sumptuous addition. 
LINEN: is the most celebrated of summer cloths; cool to the touch, breathable and strong, and with its organic, imperfectly perfect texture and easy drape, its popularity is understandable. Yet, its lack of natural stretch means it creases, as we all know. Embrace the crease in a pure linen suit, by all means, for a laid-back continental summer look.
However, it's easy to avoid the crease, and still achieve the perfect summer suiting aesthetic; the wool/silk/linen blend is the answer. Bringing the best of all three elements - wool's non-crease; silk's luxury; linen's texture - to create a light weight, breathable, luxurious-looking, non-creasing piece that is closest in appearance to linen, the blend is, in our opinion, the best solution for summer. 
Ideal wedding attire, too, if we don't say so ourselves, either as a suit, or to be broken up and worn as separates. A jacket in the blend lends itself nicely to a very soft shoulder for that Italian vibe, but, just to be contrary, we also think it looks great with a rope shoulder. A jacket would work just as well worn casually with an open collar shirt and cotton chinos, as it would being dressed up - you could add a waistcoat with ease to enhance formality. Trousers in the blend are lightweight and comfortable, and can be easily matched with other items - a linen shirt on top would be our preference. The blend is also great for ties - just ask to see our collection.  We like to think of the wool/silk/linen blend as summer's answer to winter's flannel. Don't thank us - just join us, by ordering your wool/silk/linen blend piece today.