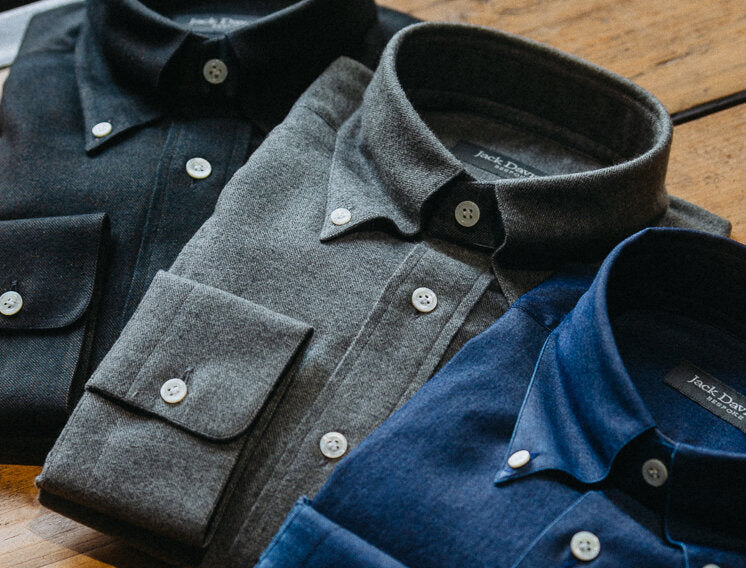 The flannel shirt has moved on. No longer just a lumberjack number reserved for the weekends, our made-to-measure flannel shirts are a whole new ball game. Coming in a wide range of sophisticated and understated flannels straight from our incredible selection of mills and merchants, and cut to the perfect fit, our flannel shirts can be worn for all manner of occasions. They are one of our favourite things to wear during the colder months, with a great deal to recommend them. Let us tell you why we're such aficionados. 
COMFORT: Put on a flannel shirt when the cold starts to bite around September, and we guarantee you won't want to take it off until at least March – that's why you'll want more than one!  Warm, soft and comfortable, flannel's renowned raised nap, with soft and fuzzy finish, is warm and comfortable, making it ideal for wear in cooler climes. 
FIT: Flannel is a very forgiving fabric, and makes for a great shirting material. It drapes like a dream, and is consequently super easy to wear, whatever the occasion. 
VARIETY: A flannel shirt adds the variety that your wardrobe needs. Flannel's characteristic texture provides an entirely different look to your average shirt; your shirt selection will never run dry if you add a few flannel shirts to your shopping list.  What's more, we have a massive range of colours for you to choose from, from charcoal, navy and brown, to pales, pastels, and more.
VERSATILITY: This shirt is the epitome of versatile. A flannel shirt will soften a formal, tailored look, just as much as it will smarten you up on the weekend, styled with a pair of chinos or jeans. It's also very easy to style, and especially perfect for layering, whether worn with a tie, with knitwear, under a suit or an overcoat – or all of the above.
Ask about our flannel shirts on your next visit to add one (or a few) of these versatile numbers to your repertoire.