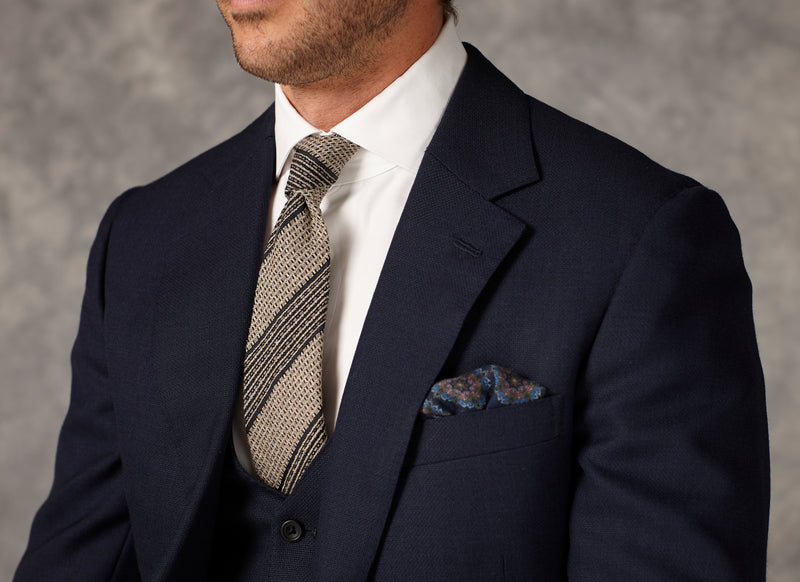 You'd be hard placed to find a suit as versatile as a classic navy, and whilst it really needs no introduction, we can't help but expand on its many virtues. After the year we've all had, and with a return to normality just around the corner, it's about time we thought about looking and feeling sharp again. The classic navy suit ticks all the boxes. 
In its simplest form, an exquisitely cut, single-breasted navy suit in a mid-weight worsted wool is possibly the single most useful item in a gentleman's wardrobe.
The focus of this classic piece is the cut. The result is a timeless, staple investment piece, one which is sophisticated yet understated, and which can be adapted to the individual's own taste over time, and to a variety of occasions. Whether worn to the office, an interview or event with a crisp white shirt and pocket square, or donned for a more casual affair with a roll neck and suede brogues, it's uses are manifold, and it is for this reason that we always recommend the classic navy suit as a first commission for anyone dipping their toes into the world of bespoke tailoring.
Beyond this recommendation for a first commission, there are, of course, ways to mix things up for the bespoke aficionado. This may be down to cloth choice. A textured cloth, such as navy flannel or hopsack, or a pattern like a chalk stripe, will add interest. We can play with detail, whether by cutting the jacket with a softer, more Italian shoulder, or by adding a waistcoat for occasion-wear, or by opting for a double-breasted front. As ever, we are at your disposal to advise and create whatever it is that you have in mind.