WHAT IS A MADE-TO-MEASURE SUIT?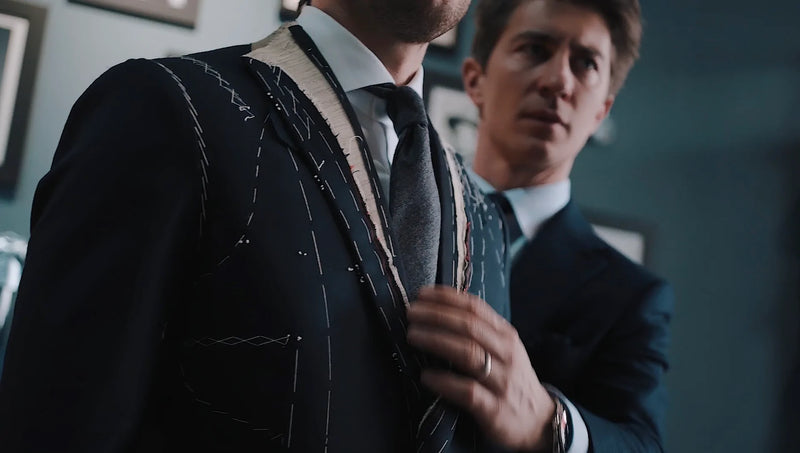 The bespoke versus made-to-measure question is one a lot of our clients ask, so let's wade through the jargon and explore: what's the difference between the two processes, what are the results and which is the right one for you?
What's the difference between bespoke and made to measure?
What do we mean when we refer to bespoke, versus made to measure? Simply put, a bespoke suit is an entirely unique piece, which begins with a hand-drafted paper pattern transferred to fabric and sewn by hand. The made-to-measure suit, meanwhile, originates from an existing house pattern which is then customised to the individual. Both processes result in a perfectly fitted, finely crafted garment, its style, cloth and detail selected by you. Let's take a look at the finer details of each process.
What is a bespoke suit?
A bespoke suit is the ultimate sartorial experience and display of craftsmanship; completely handmade, the highest quality imaginable and following in the footsteps of centuries of tailoring tradition on Savile Row and in Naples. Its look and feel are unmatched by any machine-made garment. What's more, you have almost limitless options when it comes to styling. A bespoke suit is entirely unique to you, down to the very last detail, its fit precise to the very last stitch.

During your first fitting, we'll take an in-depth set of measurements, the keystone to the perfect suit. This will include your neck, chest, waist, hips, seat, inside leg, outside leg, sleeve and shoulder to cuff length. We'll also look carefully at the configuration of your body; we're all unique, so we need to take specifics into account. We will make a note of your posture and incorporate that into your pattern, too.

Next, your very own paper pattern will be hand drawn and cut from scratch; this is then transferred to your chosen cloth to be constructed and sewn by hand, in our workshop here in London, ready for your first 'basted' fitting. This is followed by a number of further fittings, to allow us to re-work the garment to perfect its fit. A bespoke jacket typically takes around forty hours to make by hand; the whole process takes around ten to twelve weeks from initial consultation to finished product. Your paper pattern is then stored safely, ready for your next commission with us.

What is a made-to-measure suit?
Choosing made to measure offers you the opportunity to put your own stamp on your suit, without the intricacy of detail involved in bespoke. Precisely measured and machine made, a made-to-measure suit will still provide perfect fit and utmost quality, but is a gentler introduction to the Savile Row experience for the more time and budget-conscious gentleman.

Just as with a bespoke suit, we will take a full set of body measurements. Then, we follow a slightly different process. We take your measurements and apply them to our existing house pattern, which we call the 'block'. The block is customised and adapted to your measurements and style before being made in your cloth of choice and to your specifications. Each suit is then sewn by machine with only a little hand work. As with the bespoke process, your pattern is stored away, ready for the next time. With fewer fittings involved, the process is a quicker one, taking around six to seven weeks from beginning to end.

Are bespoke and made-to-measure suits worth it?
Cut from the world's finest fabrics and constructed according to your exact measurements, we create exceptional investment pieces using the highest standards of craftsmanship. A tailored suit, whether it be bespoke or made to measure, is quite simply a cut above the ready-to-wear garments you'll fine on the high street. Take it from us: once you've worn a suit specifically designed and created for you, by us, you'll never look back.