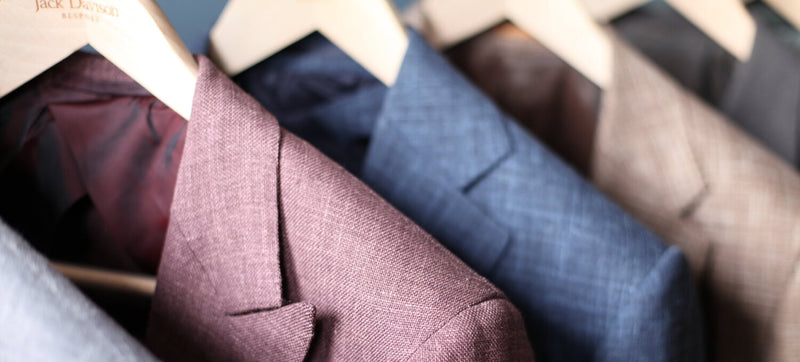 2020 may have only just begun, but believe it or not, wedding season is fast approaching... If you want to look the best you can from spring nuptials onwards, you need to start thinking suits now. Whether you're the groom, a member of the wedding party, or a guest, we're here for all your bespoke and made-to-measure needs. We love tailoring for weddings, and we have a few tricks up our sleeve for nailing the wedding wardrobe. 
Off White Wool Silk Linen Dinner Jacket
WHAT TO WEAR?:  That's the million dollar question. Your invitation may have arrived in the post as long as a year ago, so you'd better double check the dress code. Are we talking white tie, black tie, cocktail, formal, semi-formal? This is a key factor in what you will choose to wear. The time of year in which the wedding will occur is also something to bear in mind. If the wedding is taking place during the chillier months, you might need warmer, heavier fabrics such as tweed and flannel. But as we approach spring and summer, what about linen, or even better, a lovely lightweight wool silk linen blend, with a bit of texture? Such a fabric is super easy to wear and can be worn for other events too.  Of course, these are all things that we'll help you with. Just let us know the details of the occasion and we'll work together to establish exactly what you need, and get the ball rolling.
HOW TO WEAR?: A wedding is the perfect opportunity to really have fun with what you wear, and to play about with the details. You can have fun with lapels, for instance; rather than the everyday notch lapel of a business suit, how about a peak lapel? How many buttons and pockets? What about a statement lining? It doesn't end there. You could opt for a three-piece, adding a waistcoat into the mix, to smarten and sharpen your look. Or, if appropriate, you might choose a smart separates approach. A blazer can be a cool way to do summer wedding attire, but the key is getting the other elements of the outfit to work together in harmony. 
Then we have accessories, essential in marrying the various elements of your outfit together.  Think about your tie, which we recommend be the right colour and width in relation to the suit and lapel width, and your shoes, which should be shined to perfection. There's also the trusty pocket square, the colour of which should complement, but not match, the suit, by containing similar tones. Attention to detail is what really gets you noticed. Accessories should be considered and understated, complementing the suit but not taking over. Don't forget, the stars of the show here are the cloth and the cut of your suit.                                                                         
MOST IMPORTANTLY:  It's a special day, and you should feel the most confident you can, as comfortable as possible, and most importantly, yourself. Let us tailor a wedding look that is totally personal to you. 
Be wedding season ready with Jack Davison Bespoke, with turnaround times of 6-7 weeks and 10-12 weeks for made-to-measure and bespoke suits, respectively. Click here to book a consultation.