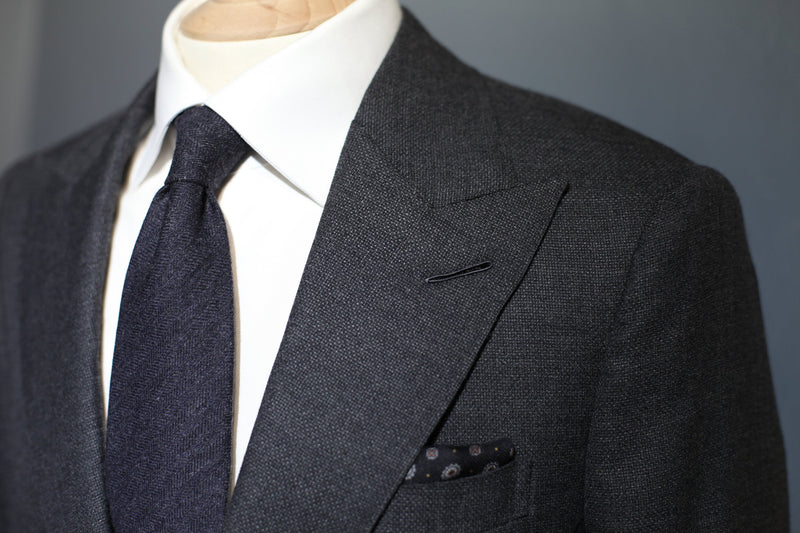 DOWN TO THE LAST DETAIL
So you've selected your cloth; now it's time to attend to those all important finishing touches. Of course, a great deal of the detail we decide upon will come down to the purpose of the suit, but even after that has been established, you'd be surprised at just how many decisions we have left to make.  Let us guide you through it, to the very last detail. 
Left - Single Breasted
Right - Double Breasted
First up: single or double breasted? Single breasted is generally easier to wear and is possibly a more modern look, but its dressier double breasted cousin has come full circle in recent years and is seen out and about much more frequently; we're rather fond of it ourselves. 
Roped Shoulder - Notch Lapel
Next up are the shoulders: a crucial consideration and a defining characteristic of the suit's final silhouette. You can choose a traditional structured shoulder, with some padding, or a rope shoulder, which gives the shoulder more definition, producing a slightly more formal appearance. At the other end of the spectrum, you could go for a softer, unstructured shoulder, which looks more casual. An Italian shoulder goes even further, and you could perhaps make it Neapolitan, which involves a slight puckering of the sleeve cap fabric. Occasion and body shape will determine shoulder choice.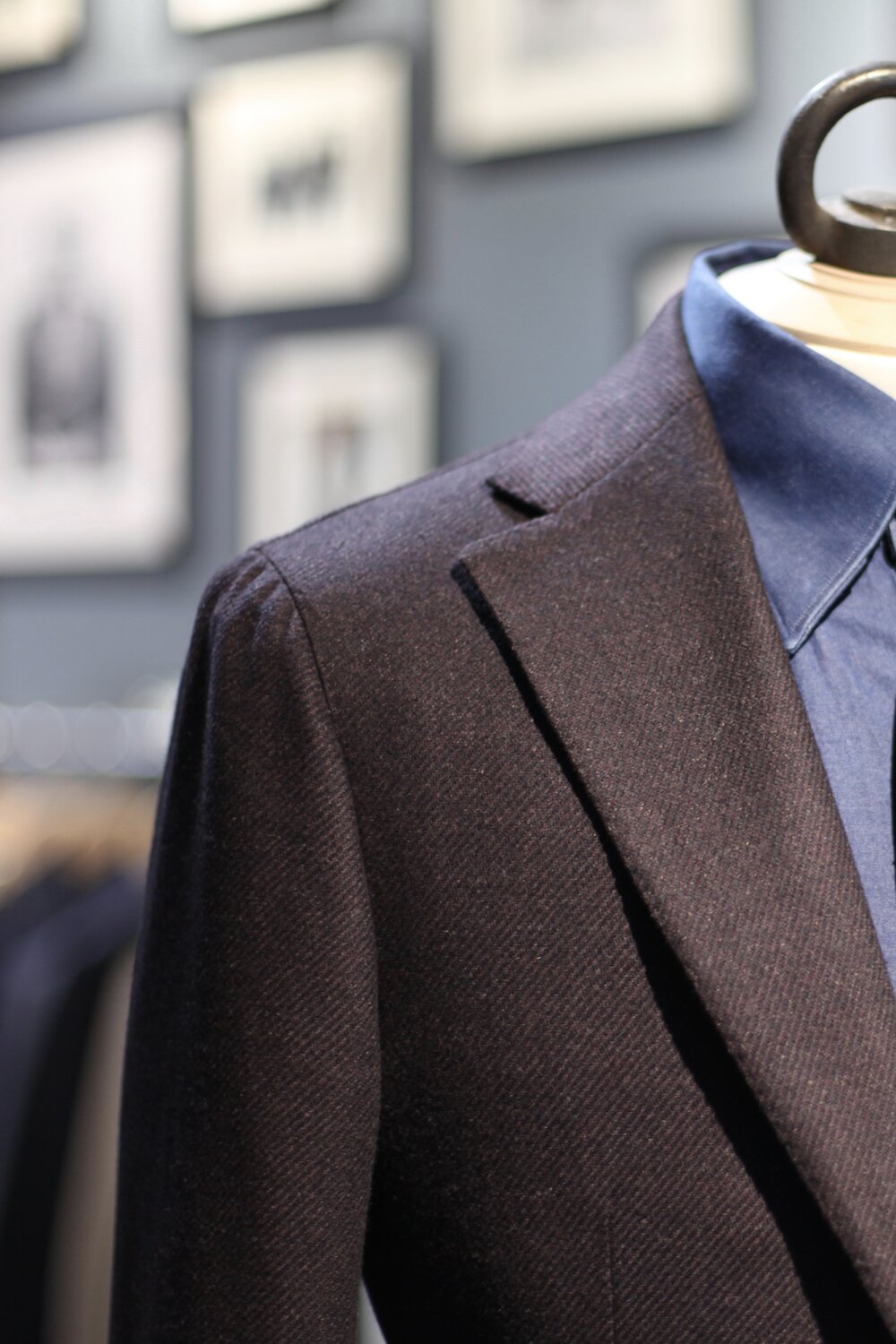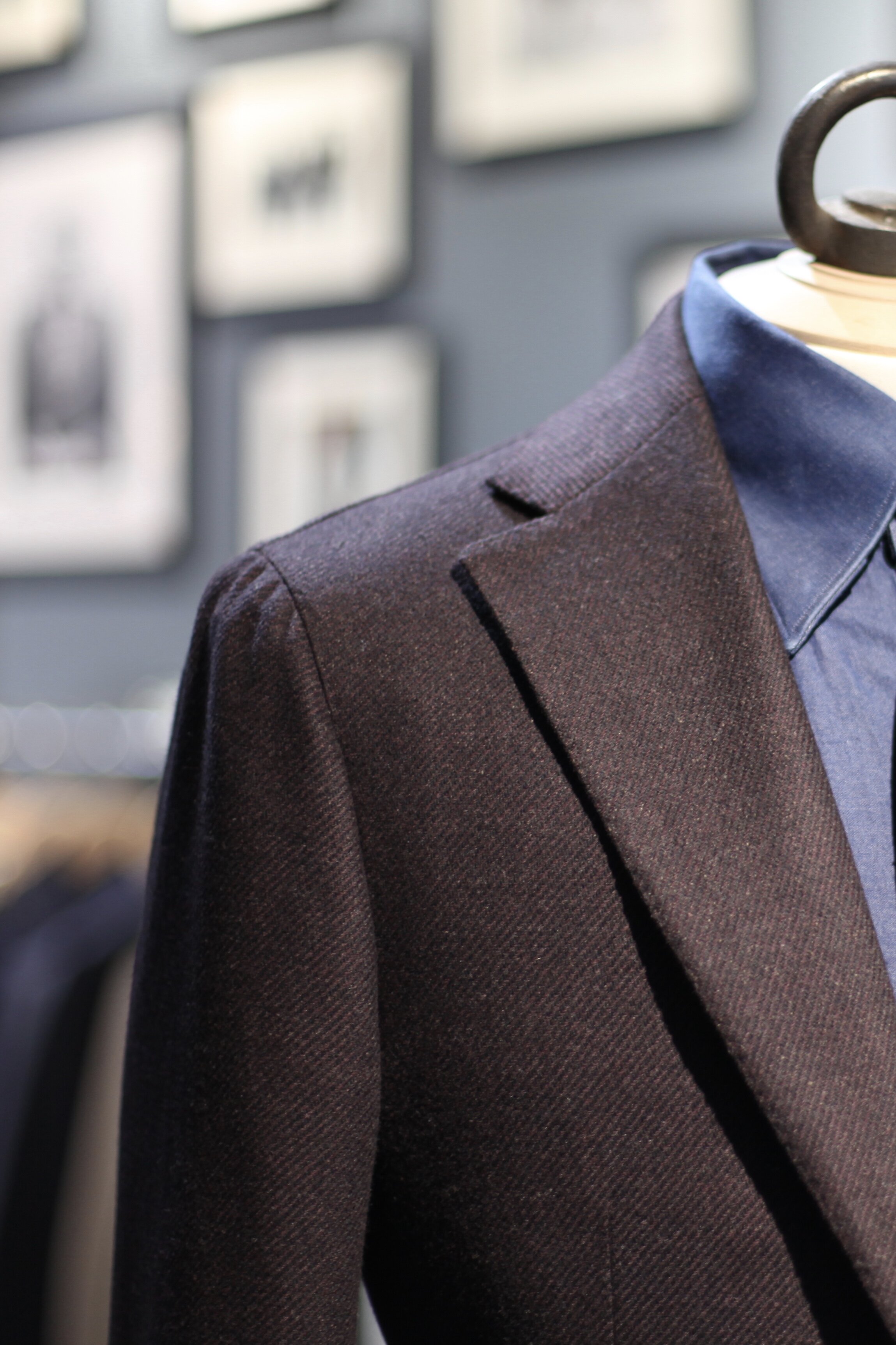 Neapolitan Shoulder - Notch Lapel
As if that wasn't enough to consider, what about lapels? We have standard house widths for our lapels, but it's ultimately up to you. The lapel shape of a suit gives it distinct character – think notch (the most common and versatile, most usually found on a single breasted jacket), peak (wider, more formal and with sharper edges, as seen on double breasted jackets) and shawl (continuous and rounded, often seen on dinner jackets). 
As for vents, the slits you find in the back of the jacket: these may be single, double, or not included at all, depending on the shape of the wearer, the desired look, how much movement is required, and even tradition (tuxedos, for example, do not customarily have vents, but we add them more often than not to enhance the silhouette). 
And of course lining is an exciting consideration: it should be made from a breathable, natural fibre. Bemberg, the king of linings, is our go-to choice, but silk is an option. Don't forget colour, either – the interiors provide the perfect opportunity to line the jacket with personality. You may prefer to go unlined or half-lined, for a lighter feel, and a slightly softer shape, but of course, the jacket's integrity is less protected as a consequence.  
Pockets are next on the list. Slanted, straight, jetted, patch, flap, ticket, and not to forget the internal pockets – who would have thought pockets could be such a minefield? Buttons, too – how many on the front and cuff, what size, and made of horn or mother of pearl? Have no fear – we'll go through the various options and decide what will work best along with the other details you choose. This is also the time to consider stitching and any particular accents you may desire.
It's not just about the jacket, but the trousers. You have the choice of a slim leg or a wide leg, pleats or flat fronts, turn ups or no turn ups, back pockets or none at all. You might want belt loops or side adjusters, a zip fly or a button fly. And if you want us to make you the perfect shirt to wear under your suit, we'll talk fit, finish, collar and cuffs.
Get excited and join us to delve into the detail, to create a piece that is entirely unique to you.