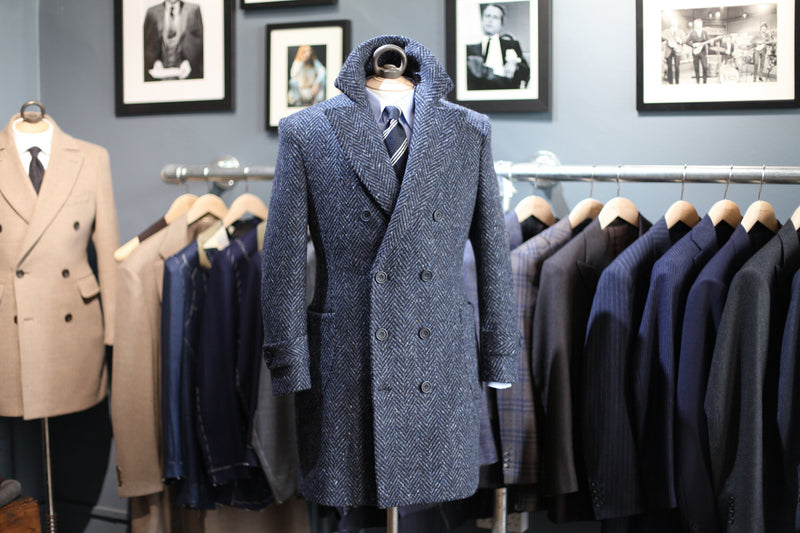 Winter is coming, and all that, and we have just what you gentlemen need: the perfect overcoat, made to your exact specifications. 
Well, going bespoke means you can have whatever you like, and it will be of the upmost possible quality. But there are a few basics when it comes to creating an overcoat. 
Fabric, for one: wool of course is a go-to, and tweed is an option; you may choose cashmere, pure or in a blend. In terms of cut, traditionally, the overcoat sits on the knee, or just below (any longer and it starts to look outdated, and more like the aforementioned great coat). In recent times, however, we have found that a slightly shorter cut, sitting just above the knee and with a more contemporary feel, is very popular. As for the sleeves, these should go just beyond the end of your shirt cuff, or sleeve, depending on what you are wearing underneath. Going single breasted with a notch lapel is minimal and versatile, while double breasted with a larger peak lapel not only gives you extra warmth with the front wrap, but is more stand-out, and best worn over a suit. The fit is crucial; an ill-fitting overcoat is a no-no. How we cut the coat will depend slightly on what you plan to wear underneath; if you wish to cover a full suit, then we'll need to allow the space for that, especially in the shoulders. We still like to keep it slim though, with a nice waistline, so that if you do decide to wear it over casual wear, it won't look too big.  And finally, colour: as we'd recommend when you choose your first suit, your first overcoat ought to be a versatile colour that you could wear with pretty much anything, so black, navy and charcoal would be our suggestions. You really can't go wrong. 
How to wear it?
Over a Jack Davison Bespoke suit, of course... We would say that, but there really is no better sign of craftsmanship than a well-cut overcoat, which when removed, reveals a beautifully-crafted suit. For more casual options, think about wearing over a cashmere roll neck, or a crisp white Oxford shirt with wool trousers, and a pair of Oxfords or Derbies.  The beauty of the overcoat lies in its versatility, timelessness and style, and of course, its protection against the winter cold.  
We're ready to give you a warm welcome, and to create for you an even warmer overcoat.