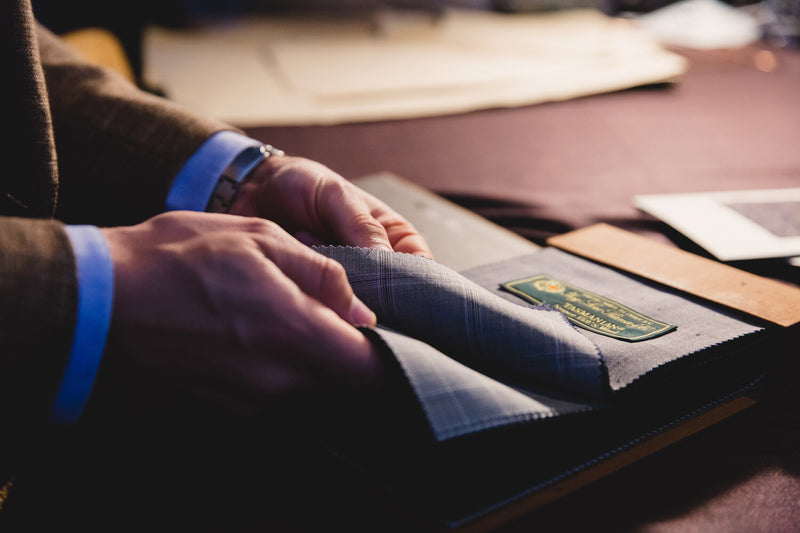 The new year is a time to reinvigorate and reinvent wardrobes, and luckily for you, we have an ever-changing selection of cloths from our very carefully selected collection of cloth mills and merchants. As the seasons change, we receive new cloth bunches with choices to fit every wardrobe. Your new suit is only a few week away, gentlemen... 
We thought we'd take this opportunity to introduce you to our suppliers, who play a crucial part in making our bespoke visions into reality, and who have some pretty interesting histories themselves. Largely English and Italian, and always supplying us with the highest possible quality of fabric, here are the mills and merchants you'll find on our shelves.
THE MILLS: 
As part of a centuries-old legacy, the mills we work with weave the cloth. As they make the fabric themselves, mills tend to have a more steady range of materials, whilst merchants have greater freedom to mix up their collections. We can always count on the mills to provide those classic fabrics that will never go out of style. 
HARRISONS, England:  Situated in the heart of the Yorkshire Dales, Harrisons is a family owned mill using age-old traditions and expertise. 
FOX BROTHERS, England: With 250 years of history as a British textile manufacturer, Fox Brothers, established in Somerset, has some great stories to tell; from being involved in the development of cricket whites, Winston Churchils's go to Mill for suits, making the khaki flannel for use in the Great War, to its collaboration with Nike.  
HUDDERSFIELD FINE WORSTEDS, England: Internationally renowned, this West Yorkshire mill supplies design houses and tailors the world over, with a combination of innovation and tradition. 
SCABAL, England: With a fascinating history, having provided fabric for costumes worn in The Godfather, and having collaborated with artist Salvador Dalí, Scabal has a flagship store on Savile Row, but it's roots lie in the mills of Huddersfield, the home of English cloth making.
SOLBIATI, Italy:  With a long history of family ownership, Solbiati is renowned especially for its linen.  
THE MERCHANTS: 
Our merchants are purveyors of the mills' fabrics: the fabric agents if you will. As a result, merchants tend to come up with new designs and hold more varied and seasonal collections. 
DUGDALES, England: Independent, family-owned cloth merchant since 1896, Dugdale Bros & Co. are cloth merchants in the home of textiles, Huddersfield. 
HOLLAND & SHERRY, England: Founders Stephen George Holland and Frederick Sherry began at 10 Old Bond Street, London, and the merchant continues to source the best cloths to this day. 
LESSERS, England:  Throughout the long history of H. Lesser & Sons, it has gained a reputation as one of the finest cloth purveyors out there, and is based in London. 
W. BILL, Wales: A little shop in Mold, North Wales in 1846 was the beginning of William Bill's journey to becoming one of the world's finest cloth merchants and expert in tweed and cashmere, with clients including Picasso and Shackleton.
ARISTON, Italy:  Established in Naples and family run for four generations, Ariston produces wool, mohair, silks, cashmeres, cottons and linens exclusively in Italy. 
CARNET, Italy:  Situated close to the city of Como, a city famous for its silk production since the 15th century, Carnet continues this tradition with its luxury collections, with an average of 1,500 new additions every year.
DRAPERS, Italy:  Established in 1956 by Arturo Lolli and family in the historic centre of Bologna, Drapers is now half owned by Barberis, one of the oldest mills in the world, creating a successful partnership in selling the finest fabrics. 
DORMEUIL, France:  One of the few purveyors on our list not to be English or Italian, Dormeuil is a major French merchant based in Paris, known as the inventors of Sportex, of the Pashmina fabric, and whose 150th anniversary occasioned the illumination of the Eiffel Tower in celebration.   
So as a new year begins, why not pop in and check out the latest offerings from our enviable roster of mills and merchants? Dust off the cobwebs of 2019 with a sharp new suit, and get ready to take on 2020.